Confession: I'm a Beatlemaniac. As a teen I attended Beatlefests in Chicago and New York, toured Fab Four shrines across the U.K., and decades later my love for them hasn't waned.
I've often wondered what made them so different from hundreds of other groups. According to Malcolm Gladwell, the answer is 10,000 hours of hard work. While that definitely helped, I believe something else was at play. Namely…
The Beatles Played Together
Not just instruments; they played games. Silly ones. They laughed and joked and had fun together, and that playfulness infused every part of their lives.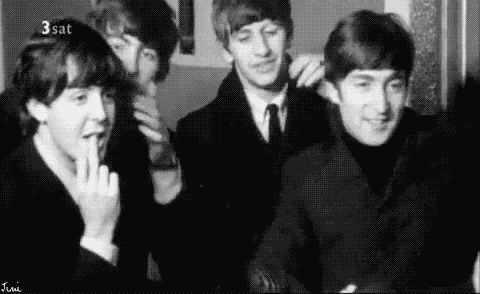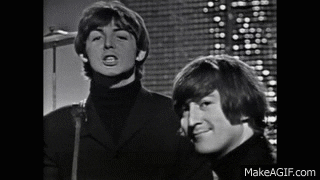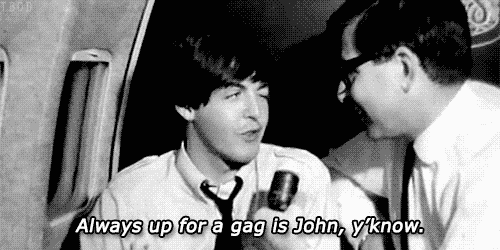 Even when they worked crazy hours, they still made time for play. It helped them cope with stress, and kept their brains open to creative input. Here's John in Hamburg's notorious Reeperbahn district after playing an eight-hour set. One of the other Liverpool bands dared him to read a newspaper while wearing his underpants.
They didn't follow the rules. In the early '60s, up-and-coming artists were expected to leave songwriting to "the pros" of Tin Pan Alley. And while their first albums included cover songs, The Beatles always wrote their own stuff.
None of The Beatles could read or write music using traditional notation. Instead they viewed music as a process of discovery, listening to records and mimicking them, or creating their own sounds. Their Producer, George Martin, transcribed and translated their ideas in the studio.
They also weren't afraid to challenge convention in other ways. When The Beatles toured the southern U.S., they were stunned to learn venues were segregated. Having been influenced by artists like Chuck Berry and Little Richard, they refused to play segregated concerts – and the laws changed as a result. They also spoke out against the Vietnam War, considered a no-no for mere pop musicians.
They were curious about everything. The Beatles weren't just fascinated with music. They were also deeply interested in art, fashion, film, photography, writing, comedy, and other cultures. That curiosity spilled over into everything they touched, from clothes to cover art. Before The Beatles, pop albums looked like this:
The Beatles changed all that, pushing the possibilities of what an album could be and turning each one into an event. By 1965 they were so well known, Rubber Soul was released without their name anywhere on the front cover. The "White Album" went even further, with each edition numbered like a work of art. The Butcher cover, meanwhile, is so legendary it deserves an article to itself.
They treated everything as a potential instrument. Paul's shoe tapping in Blackbird. Ringo playing a packing case on Words of Love. George's guitar feedback at the beginning of I Feel Fine. Their improvisational, "anything goes" attitude changed how people approached and listened to pop music.
They also preceded mash-ups, smashing together two completely different songs (A Day In The Life), and speeding up and slowing down the same song in two different keys (Strawberry Fields Forever).
And it wasn't just sounds that inspired them. John wrote lyrics based on a circus poster (Being For The Benefit of Mr Kite), newspaper stories (A Day In The Life), and things he heard in everyday conversation (She Said, She Said).
They were constantly learning. In the movie Help!, The Beatles needed to ski downhill in one scene. None of them had ever skied before. Director Richard Lester gave them one day to learn…and filmed it. The result is a lot of shots of them falling down during Ticket To Ride, one of the film's most memorable scenes.
They were really, really connected. Look at any live performance, and even though they're playing to the audience you can see their eye contact and checking in with each other.
They collaborated with others. How many lead guitarists would ask someone else to play lead on While My Guitar Gently Weeps? And yet George did just that, giving Eric Clapton's superb slide guitar centre stage.
The Fabs also enlisted George Martin to play harpsichord on In My Life, Billy Preston to play organ on Get Back, and Brian Jones to play sax for You Know My Name (Look Up The Number).
When Revolver came out, they could have got anyone to design the artwork. They asked Klaus Voorman, a friend from their Hamburg days, whose B&W ink-and-photo collage earned him a Grammy for Best Album Cover.
They also supported emerging artists of all kinds, including one Yoko Ono.
With the 50th anniversary of Sgt Pepper's Lonely Hearts Club Band, I'm still in awe of their talent and contributions, and still a Beatlemaniac at heart. Their lives and songs have inspired my writing and countless improv scenes. I hope you'll be inspired to put some of their principles into play.