Have you ever been ill before a show or rehearsal, so ill that you felt you couldn't go through with it, yet somehow you did and ended up having a great set?
When Paul Brittain offered a workshop in Toronto, I signed up months in advance. I was super excited, and looking forward to learning from the SNL alumnus.
But as the date got closer, I got sick. We're talking coughing up toxic sludge, sweating profusely, SARS-kinda sick. Still, I was determined to attend. (Who cares if I was carrying the Plague? This was clearly all about me.)
The day of the workshop, I awoke feeling mummified. On the subway ride there, I was sure I was going to pass out.
Standing outside the classroom, I was torn between vomiting or dying. Mostly, I was furious at my body: How dare it get sick, now of all times?
At the last moment I made a decision: I wouldn't participate, I'd just monitor the class. It was better than missing it altogether.
And then a funny thing happened.
I sat and watched as the first group performed. But when Paul called for four new people to go up, I joined them. My performance was far from amazing, but I enjoyed learning a new form.
I returned to my seat and watched as another group tried a different form. When he called for a new bunch of people, I went up again. This time I was a little more playful.
As the afternoon progressed, Paul switched to two-person scenes.
Standing on the sidelines, I thought of an initiation: I'd go in as Tom Jones, a callback to an earlier scene.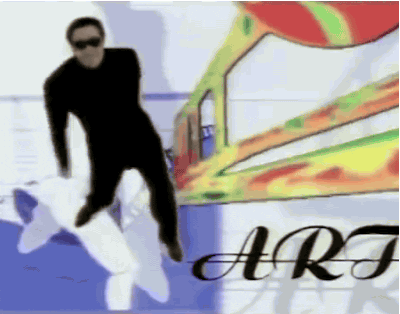 But as I strode forward, my hand cupped like it was holding a microphone, the girl walking towards me endowed me as a computer salesman.
Without breaking stride, I became an Apple Genius, and the microphone became a pen. I saw the store in 3D all around us, and started showing her a MacBook.
With every line my scene partner spoke, words and phrases peculiar to my character (not me) flowed from my lips, and I discovered more things in our environment to play with. I didn't have to look; they appeared spontaneously.
During the scene I was aware of only one thing: that I wasn't thinking or anticipating at all. It felt like things were being fed to me, constantly, intravenously.
Afterwards, Cameron asked if I'd seen Paul laughing. I hadn't, but it was only then with the workshop over that I realized I hadn't thought about being ill the entire time.
Two hours earlier I wasn't sure I could stand. My only goal was to get through the workshop without puking. But during scenes, I was like a person possessed. It was one of the funnest, most freeing experiences I've ever had.
Maybe I oughta get sick more often.